Can't shop because you're observing social distancing due to COVID-19? No worries, we've got you, we are having a special sale to treat you—our beloved Adam4Adam members—during these hard times. 
To encourage you staying home and having solo fun, A4A is offering a 10% discount on all orders on Adam4Adam Store, simply use the code STAYHOME at checkout. Please note that some of our products are currently already on sale so this means that you will get an additional 10% on top of the current discount.
You may also want to check the following:
Kyle Fantasy Love Doll – since you are staying at home, why not try Kyle Fantasy Love Doll? They say that sex robots are transforming intimacy and changing the future of sex as we know it. Perhaps, in this age of coronavirus, the future they speak of has come.
7 Inch Vibrating Squirting Dildo with Remote Control – you may also want to try this dick that shoots lube-cum in your hole safely.
And that's not all as we have another sweet deal for you. We are introducing Swell's expanding and vibrating anal plug series at a hefty discount of 38% off the retail price. You can choose from the missile, which maximizes the stretching sensation; the curved, which is perfect for prostate pleasure; and the tapered, which has a slender tip for easy insertion.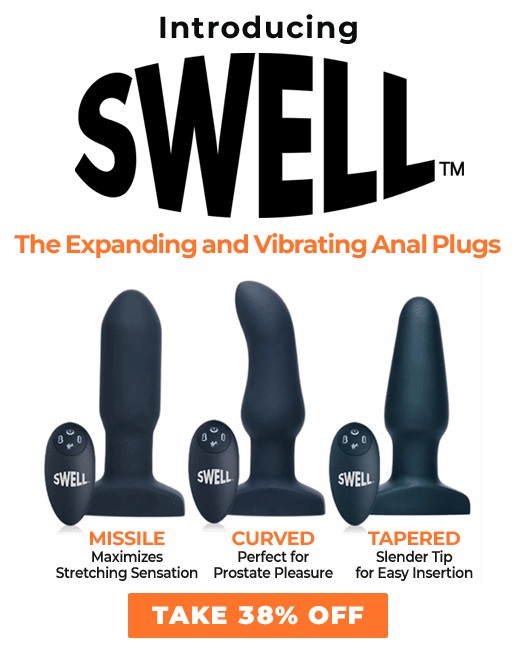 Lastly, you can get all other anal and butt plugs at a 15% discount so what are you waiting for, guys? Hurry! It's a good time to stock up on lubes, dildos, masturbation toys, so take advantage of the additional 10% discount right now by shopping and hunting for your next favorite sex toy. Simply type STAYHOME upon checkout to enjoy the discount. Offer is good until supplies last only! 
And please, please, stay in your homes as much as possible, guys. We understand what you're going through as we, Adam4Adam employees, are experiencing the same thing ourselves and we are all working from home during this crisis to keep you guys connecting, virtually.
Keep safe and stay healthy, and let's all work together to beat COVID-19.
Happy shopping!