Wonderful news, guys! Pfizer has announced this Monday that the COVID-19 vaccine they jointly developed with German biotechnology company BioNTech, was found to be over 90 percent effective in preventing COVID-19 infections at 7 days after the second dose.
Moreover, Pfizer explained that "protection is achieved 28 days after the initiation of the vaccination, which consists of a 2-dose schedule."
UPDATE: We are proud to announce, along with @BioNTech_Group, that our mRNA-based #vaccine candidate has, at an interim analysis, demonstrated initial evidence of efficacy against #COVID19 in participants without prior evidence of SARS-CoV-2 infection.

— Pfizer Inc. (@pfizer) November 9, 2020
This is a first but critical step as we continue our work to try to deliver a safe and effective #COVID19 vaccine.

— Pfizer Inc. (@pfizer) November 9, 2020
The Phase 3 clinical study, which is ongoing, has 43,538 participants, 42% of whom came from diverse backgrounds. What's more is that the companies found no serious safety concerns though they said that they will continue to collect safety and additional efficacy data.
Pfizer added that they will submit their COVID-19 vaccine for approval for Emergency Use Authorization (EUA) to the U.S. Food and Drug Administration (FDA) in late November once they achieved the required safety milestone. Read their announcement in full here.
There are 3 critical areas where we must demonstrate success before filing for EUA of our #COVID19 vaccine

▶️ Evidence of efficacy in most vaccinated patients

▶️ Evidence of safety w/ data from thousands of patients

▶️ Manufactured consistently at the highest quality standards

— Pfizer Inc. (@pfizer) November 9, 2020
"Today is a great day for science and humanity. The first set of results from our Phase 3 COVID-19 vaccine trial provides the initial evidence of our vaccine's ability to prevent COVID-19," said Dr. Albert Bourla, Pfizer Chairman and CEO. 
Dr. Bourla added:
We are reaching this critical milestone in our vaccine development program at a time when the world needs it most with infection rates setting new records, hospitals nearing over-capacity and economies struggling to reopen. With today's news, we are a significant step closer to providing people around the world with a much-needed breakthrough to help bring an end to this global health crisis. We look forward to sharing additional efficacy and safety data generated from thousands of participants in the coming weeks."
Further, Dr. Bourla said in an interview with CNBC's Meg Tirrell on "Squawk Box:"
"I think we can see light at the end of the tunnel. I believe this is likely the most significant medical advance in the last 100 years, if you count the impact this will have in public health, global economy."
Is this really the light at the end of the COVID-19 tunnel that we all have been waiting for, guys? We sure hope so!
U.S. President Donald Trump called Pfizer's announcement "such great news" on a tweet:
STOCK MARKET UP BIG, VACCINE COMING SOON. REPORT 90% EFFECTIVE. SUCH GREAT NEWS!

— Donald J. Trump (@realDonaldTrump) November 9, 2020
President-elect Joe Biden, on the other hand, described Pfizer's news as "excellent" though at the same time, he reminded everyone to "understand that the end of the battle against COVID-19 is still months away."
He added, "This news follows a previously announced timeline by industry officials that forecast vaccine approval by late November. Even if that is achieved, and some Americans are vaccinated later this year, it will be many more months before there is widespread vaccination in this country."
Statement by President-elect Biden on Pfizer's vaccine progress: pic.twitter.com/eOiLZnqO8N

— Biden-Harris Presidential Transition (@Transition46) November 9, 2020
Biden also urged everyone to wear a mask, saying, "I won't be president until January 20th, but my message today to everyone is this: wear a mask."
I won't be president until January 20th, but my message today to everyone is this: wear a mask.

— Joe Biden (@JoeBiden) November 9, 2020
Pfizer's and BioNTech's projections show that they can supply up to 50 million vaccine doses around the world this 2020 alone and up to 1.3 billion doses in 2021. 
According to CNBC, "Scientists are hoping for a coronavirus vaccine that is at least 75% effective, while White House coronavirus advisor Dr. Anthony Fauci has said one that is 50% or 60% effective would be acceptable."
Meanwhile, Ivanka Trump had erroneously credited the government for the breakthrough on social media saying that Pfizer is part of Operation Warp Speed. The remark aroused the ire of many netizens, prompting them to correct Ivanka.
Thank you to the people of Germany, their taxpayer $$ given for research, and Angela Merkel.

(see last sentence, after the highlighted one) pic.twitter.com/42GsuCXvAh

— Rani Yachts 🏳️‍🌈Biden-Harris 2020!! (@rani_yachts) November 9, 2020
Warp Speed is a public-private partnership initiated by the Trump administration designed to "drastically shorten the time it would take to manufacture and distribute a working vaccine." The United States government had reportedly invested on over half a dozen vaccine research and development "hoping to build manufacturing ability for an eventual breakthrough."
Reports say, however, that neither Pfizer nor BioNTech received funding from Operation Warp Speed for their vaccine's research and development unlike other manufacturers. But they did agree to supply U.S. an initial of 100 million doses of COVID-19 vaccine with Operation Warp Speed.
Dr. Kathrin Jansen, Pfizer's senior vice president and head of vaccine research and development, told the New York Times on Sunday, "We were never part of the Warp Speed." 
Dr. Jansen added, "We have never taken any money from the U.S. government, or from anyone." This is because, said Dr. Jansen, they want to "distance the company from Operation Warp Speed and presidential politics."
A spokeswoman for Pfizer however, clarified with New York Times that they are indeed part of Operation Warp Speed but as a supplier of a potential COVID-19 vaccine. Read the reports in full here and here.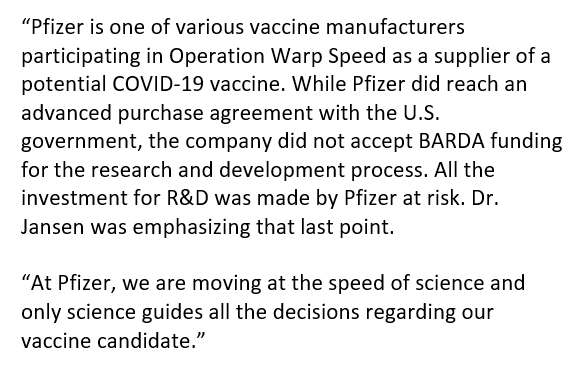 Anyway, the Department of Health and Human Services website has a complete list of companies that received funding from the government for their COVID-19 vaccine efforts plus all the things we need to know about Operation Warp Speed. 
HHS mentioned Johnson & Johnson as recipient of Operation Warp Speed support amounting to $456 million, Moderna ($483 million), and AstraZeneca ($1.2 billion) for their COVID-19 vaccine research and development.
As of press time, around 1,269,120 people globally have already died from COVID-19—a total of 244,448 deaths are from the USA alone.