While Boston's Straight Pride Parade's public event application has been approved by city officials, it looks like the group behind the event is going to have some trouble acquiring some corporate sponsorship. This is because Netflix and TripAdvisor have both sent out cease-and-desist letters to prevent organizers from listing them as a "prospective sponsor."
The cease-and-desist letter from Netflix came late last week, saying that the event being held was "about hate — not pride." The letter then went on to say that the Netflix legal department "is here, it's queer, and it's telling you to steer clear."
Read the entire letter below:
"Dear John, Mark, and Samson,
You are using the Netflix logo to promote your event, which despite its name is about hate — not pride. That's gross and deeply hurtful, but it's also deceptive misinformation and infringes our legal rights. Netflix has nothing to do with your organization or event. Indeed, it's telling that you feel the need to lie to gain legitimacy.
We write to you for two reasons: (1) to set the record straight that you are spreading misinformation about Netflix's involvement or sponsorship of your organization and its events; and (2) to notify you that you are infringing our trademark and other intellectual property rights and if you do no cease such use immediately we will have no choice but to consider further legal action. Whether you like it or not, you are infringing our legal rights and we demand that you cease doing so immediately.
You should know that we're unafraid of bullies. Our legal department is here, it's queer, and it's telling you to steer clear.
We expect removal of our name and logo from all of your materials within 24 hours."
Meanwhile, TripAdvisor issued its cease-and desist letter over the weekend, peppering it with titles of gay pride anthems such as "Vogue," "If I Could Turn Back Time," Born This Way," "YMCA," and "Believe," just to name a few.
Part of the letter reads: "There is nothing Vogue or acceptable about making false claims about others merely to support your own cause. If I Could Turn Back Time, I would tell you not to use our name in the first place. But now that you have, TripAdvisor demands that you remove all uses of our name, mark and logo from your website (and anywhere else you might use it) within 24 hours and not use them again. In other words, Black Me Out with an "X" on the above webpage. You Make Me Feel (Mighty Real) disappointment that you thought this might be an acceptable way to do business."
Read the letter in its entirety below: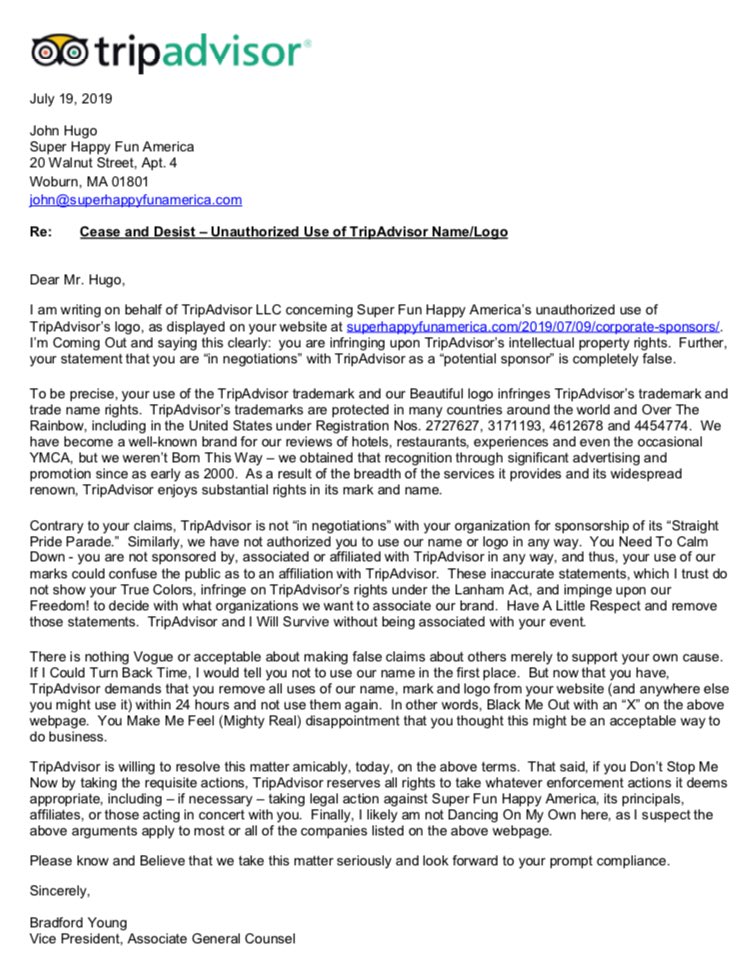 The Straight Pride Parade, organized by the group Super Happy Fun America, is set to happen on August 31.